Wildlife expedition "The elusive snow leopard"
The ultimate wildlife adventure?

In 2020 and 2023, we organized successful trips with multiple sightings of the snow leopard! We even had several sightings with cubs!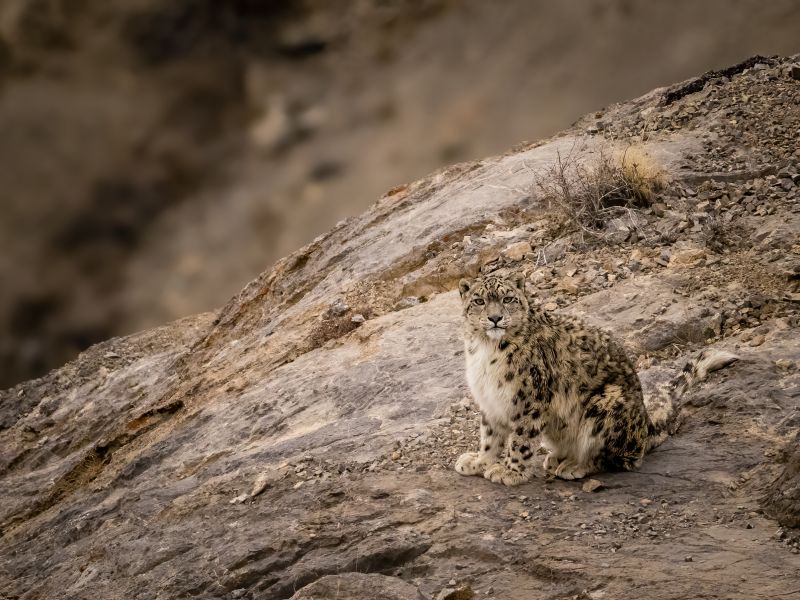 Do you also dream of seeing a snow leopard? This rare, elusive animal with its beautiful patterned fur and thick, long tail. It's incredible how they can survive in such a rugged world and at such heights!
Refered to as "the elusive snow leopard." To spot this feline, it requires a sometimes tiring but incredibly rewarding trip to remote, high-altitude areas. Considering the whims of nature, such a journey can unfold differently than planned, with unexpected turns influenced by the rugged environment.
The search itself, the altitude, the weather, and unexpected twists prompted by the harsh nature, whether or not you see a snow leopard, all these elements contribute to making such a trip a GREAT adventure!
If you're up for the challenge of venturing high up the mountains and are undeterred by the cold, if you have enough patience to wait for possibly long periods in one spot where seemingly nothing is happening, if you're willing to go the extra mile to see a snow leopard in person, we would love to embark on this adventure with you!
Through our contacts with local experts who know how to spot a snow leopard, we can offer such an expedition. In India, we have our local partners with whom such expeditions are organized, and the chances of seeing a snow leopard are very real. Together with our Indian partner, several expeditions have been organized in Ladakh and Spiti in recent years, and all of them have spotted snow leopards, several times!
In addition to the snow leopard, you can also spot Lynx, Tibetan wolf, Urial, Ibex, Blue Sheep, Red Fox, various birds, and more.
The next snow leopard expedition to Spiti, North India, is scheduled to depart on March 18, 2024. Only 6 spots are available for this exclusive 14-day trip!
Itinerary
Day 1: Flight to Delhi.
Day 2: Flight from Delhi to Chandigarh, overnight stay in Chandigarh.
Day 3: Transfer from Chandigarh to Rampur, overnight stay in Rampur. Beautiful drive through hilly terrain and villages.
Day 4: Transfer from Rampur to Kaza, Spiti Valley. Stunning drive through majestic mountains with the most extraordinary views. Overnight stay in a homestay.
Day 5: From Kaza to Kibber, driving through snow leopard territory! Overnight stay in a homestay, where we will be staying for the next few days.
Day 6 to 10: Searching for the Himalayan Ghost, the snow leopard! We start early in the morning each day. The entire area around Kibber is the territory of the snow leopard. In this region, there is a great chance of spotting other wildlife such as blue sheep, ibex, red fox, golden eagle, Himalayan vulture, bearded vulture, and various other bird species. During these days, a warm lunch will be provided in the field, wherever we happen to be at that time.
Day 11: Transfer from Kibber to Rampur, overnight stay in Rampur.
Day 12: Transfer from Rampur to Chandigarh. Evening flight to Delhi.
Day 13: International flight from Delhi.
Day 14: Arrival back home.
The exact number of days depends on the timing of the international flights.
Departure Dates
March 18, 2024
March 2025

Customized Tiger Extension
This trip is perfect for an extension to see and photograph tigers and other wildlife in central India. It's an incredible combination of completely different landscapes, offering sightings of other wildlife, including the king of the jungle, the tiger!