Wildlife Adventures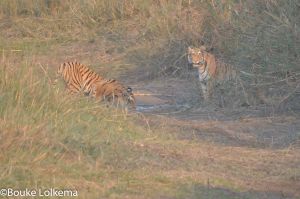 Have you always felt the desire to see a tiger in the wild? Imagine that you see it at the waterfront, drinking, like nobody is watching him.
Or witness, from a very close distance, an Indian rhino taking a morning bath in a pond with frogs? Or even spot the impressive brown fish owl, sitting on the shore of a river? You can join this ultimate Wildlife experience of a lifetime!
Lolkema Adventures is your reliable partner in Wildlife adventures. We are guiding you in Wildlife spotting and Wildlife photography in unique, mystical and undiscovered areas, where hardly any tourists have been.
Our specialty is organizing adventurous, Wildlife trips to Nepal, especially to the Bardia National Park. If you have other parts of the world on your wish list, we will be more than happy to take you there as well. It will perfectly fit, in the custom made trips that Lolkema Adventures can offer you.
Travelling in Nepal is an adventure on its own. What a magnificent country! Besides the impressive high and rough mountains, including the Mount Everest, the top of the world, Nepal has more to offer. Do not miss the chance to visit the lowlands where you can find tigers, elephants and rhino's in their natural habitat. The Nepali people live in this tough and wild nature, offering them a lot, but they also have had to learn to cope with the brutal forces of the elements. Nepal is a very mystical and mysterious country, due to the religious culture of Hinduism and Buddhism which you can find everywhere. What a great adventure being here!
Because of the wild and rugged landscape, travelling in Nepal can be challenging, especially according to our Western standards. If you think the roads are well paved, than we have to disappoint you. There are only a limited number of roads, which are very narrow and definitely, not adequately maintained in a young mountain range the Himalayas is. Whether you like it or you hate it, it has its charm to pass these roads on your way to your reward, seeing the beautiful animals you have desired for. With these limitations, large areas in Nepal are very difficult to reach by transportation and therefore will not see much tourists. What more rewarding can it be, to reach your destination after facing the challenges nature can be offering you?
Are Wildlife spotting and Wildlife photography the adventures you are looking for?
Please visit Birdwachting to spot 'your' birds!
Are you ready for maybe the ultimate wildlife adventure? Every year we will go on expedition to look for the snow leopard!! Do you want to join us? Please check this out: the ultimate wildlife adventure!!
Always tailor-made! An adventure will never be standard, it will always be focused to what you are looking for.
Got enthusiastic? Please visit Tailor-made! to learn how to make your idea into your adventure.
Read the review of wildlife and travel photographer Alberto Carrera