May be the ultimate wildlife adventure?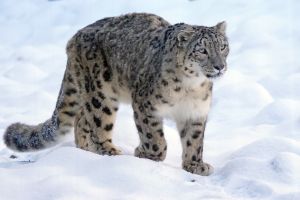 What would be the ultimate animal for you to spot in his or her natural habitat? Do you also dream of seeing a snow leopard? The rare, extremely shy animal with the beautiful hair and fur-covered feet with the thick, long tail? It is so amazing and impressive, that this elusive snow leopard can cope and survive in the unpredicted whims of Mother Nature's environment. As an animal to life in these circumstances such as high altitudes, and severe temperatures, is challenging.
To reach the high altitude areas, will be exhausting and a hard trip but the reward will be breathtaking. On your way to the top, we will have to deal with the restrictions we will find on our way. Most likely it will proceed differently than planned, but the journey it selves, the high altitude, the weather, influences of nature will be a great adventure on its own. The most ultimate gift would be, spotting the rare, snow leopard.
If you are ready to take this adventure, hiking into the high altitude mountains, 'enjoy' the cold, patient enough to spot animals, and face it all no matter what. All for one goal; just to see the snow leopard once in your life: contact us!!! Early spring 2019 we will go on this adventure with you!!
Through our contacts with locale experts, who know how to spot snow leopards, we are able to offer special snow leopard expeditions. Both in Nepal and India (Ladakh) we work with locale partners to organize an expedition on which it's very likely we will see snow leopards. Our Indian partner has organized two snow leopard expeditions in February 2018 in Ladakh and both expeditions have seen snow leoapards, and even on one occasion a snow leopard with cubs!!


Please read the review of professional wildlife and travel photographer Alberto Carrera.
This is not a review about spotting a snow leopard, but spotting tiger, rhino and other wildlife.